Larimar
AKA

Lar

Characteristics

Species

Gem

Gem Weapon

Blade

Gender

Genderless

Pronouns

Female

Age

1000+

Traits

Handedness

Ambidextrous

Gem Type

Larimar

Gemstone

Larimar

Gem Location

Located on her navel

Professional Status

Team(s)

Homeworld Gems

Court

Blue Diamond

Personal Status

Status

Active

Larimar is a Homeworld Gem. She is a very precious and rare gem,and she is in Blue Diamond's court as a professional fighter.She is a quite sympathetic and protective gem showing that when Lar helped the other gems in Rebellion.
Personality
Larimar is a very excited gem especially when she can help.She does the job quickly and efficiently using her blade.Also, she is also very smart and because of that
she can solve a puzzle in a very fast way and noting all the tactics of other gems. Of course, sometimes,she can be impulsive and instead of her brain,she use her fists and her blade. And if she doesn't want to use his fists or blade,she can freeze her opponents using her cryokinesis.
Skillset
Blade Proficiency: Being trained , Larimar knows how to fight with a blade .She uses her blade fast and efficient, and she beats her opponents easily.

Dual Wielding: Larimar is capable of wielding dual blades in battle, implying she is ambidextrous.

Item Summon: Larimar has the ability to materialize different items out of her gemstone.
Unique Abilities
Cryokinesis: Larimar can lower the temperature of her surroundings, even forming ice on the walls and freezing water.Also,she is able to freeze objects into solid ice.
Gemstone
| Image | Description |
| --- | --- |
| | Larimar's gemstone is located on her navel, featuring a hexagonal facet.The front and back are symmetrical, and it has a ring around it, which is usually hidden inside her body unless she's regenerating. It is a tetradecahedron, specifically a truncated hexagonal dipyramid. Its overall shape is circular. |
Trivia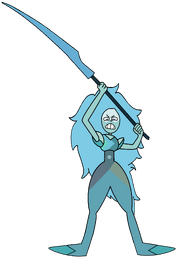 Her hair is exactly like Canon Jasper.
When she loses her control,Larimar can become a pure danger.

Note:Her eyes have a dark color and the blade become more bigger.

Her gemstone is similar to Amethyst (Canon)'s gemstone.
Being an powerful gem and she helps their friends,Blue Diamond trusts her for winning any battle.
Larimar's blade is originally made from this Peridot Weapon Speculation.